Oxya
Nikos grew up in a small village of ten families on the Greek Island of Skyros. He remembers a childhood full of challenges.
"The clothes I was wearing as a kid had holes everywhere, and my mother was always trying to patch them. I was the fourth of seven kids, so I had to wear clothes from my older siblings. We didn't have underwear to wear. I didn't wear them until sixth grade." (audio below)
The winters were harsh, but the summers were great – running, walking, and playing in the mountains. Nikos didn't have a curfew, but he also didn't have electricity. He remembers clearly how in 1976, when he was eight years old, the village finally got power – "It was like heaven."
Parents
Nikos's parents both came from hard-working farming families in the same village. Their families arranged their marriage, and after the wedding, his father moved to Athens to find construction jobs. He would return to the village once or twice a year – during Christmas or Easter – visit his wife, make a baby, and leave again. Nikos remembers how every member of the family was always working, trying to survive. While his father was away, his mother raised livestock and tended to the garden. Everything the family ate, they raised or grew. When Nikos's oldest brother turned 12, he was sent to Athens to work; then, when his next brother turned 12, he was sent to Athens. His sister didn't go because going to the capital city to work wasn't for girls.
Nikos remembers dreaming of moving to Athens like his brothers- fantasizing about the big city he read about in history books. Nikos wanted to go to school, unlike his siblings. None of his brothers made it past elementary school (the highest level of education available in his village).
Athens
When Nikos was 11, he and his mother moved to Athens so he could continue studying. While there, his mother couldn't farm anymore, so she started washing dishes in a hotel.
Nikos was 12 when he got his first paying job. He would deliver flowers at night – paid only in tips – sometimes taking the bus alone for an hour to make a delivery. At age 14, a hotel hired Nikos as a busboy and eventually promoted him to server. It was at this hotel where he started meeting lots of foreigners and dreaming of visiting other countries like Australia one day. Athens, the big city he once dreamed about, was starting to feel too small, and Nikos wanted to see the world.
Greek Navy
When Nikos turned 19, he did two years of mandatory service in Greece's Navy. Towards the end of his service, he was back at the hotel bartending. It was here where Nikos met his future wife, a university student from Minnesota doing a semester overseas and staying in the hotel. They would talk as he served her coffee, and Nikos told her, "I'll show you Athens by night".
After becoming pregnant, she returned to the United States to give birth to their daughter. Nikos desperately wanted to be there for his daughter's first moments, but his visa kept getting rejected. When he finally received the approval, his daughter was already six months old, and that's when Nikos finally held her for the first time. (audio below)
Marriage
They married in Greece and tried living in Athens. He had a decent job, and his wife could stay home with their daughter. But adjusting to this life wasn't easy for his new wife. After two years of being in Greece, and the birth of their son, Nikos's wife decided that she needed to move back to the US to be with her family.
Nikos felt like he had no choice but to try and join his wife and children in America. He also knew, from his previous visa experience, it wasn't going to be easy.
"I was kind of forced to come to the United States. Every week I would go back to the American Embassy. Every week I would get rejected, and they would ask for another document."
To get the visa, he went to a doctor for a physical he will never forget.
"I walked into his office, he asked to see my hands and said, 'I want to make sure you have strong hands. If you are going to go to the United States, you are going to work very hard.' Oh, boy, he was right!" (audio below)
Wisconsin
On November 5, 1993, Nikos flew into Appleton, Wisconsin, to join his family and start their lives in America.
"I walked outside, and there was snow and was like 'Where am I going? What the hell am I doing here?'" (audio below)
There were no other Greek people in Appleton.
"I had nothing in common with anybody. I faced discrimination. It's not like I was in Chicago; I was all by myself. It was a shock, the first couple of years in Appleton." (audio below)
Adjusting
Nikos's first Christmas in America wasn't like anything he had experienced in Greece. His family had been too poor to buy gifts.
"The only gift I ever got from my father was a bag of balloons. When he came to the village, he would give each of us boys a bag of about 20 balloons. I remember we would get so excited. Here I am, and I have these two kids, and we give them everything. I remember we had a Christmas tree and ten boxes under it, and it still wasn't enough." (audio below)
Nikos recalls many moments in those first years in the United States, where he wanted to leave.
"If I didn't have my kids, I would have left."
Despite all of the difficulties adjusting, Nikos didn't give up on life in Appleton. He wanted to learn the language and blend in too.
His first job interviews in Wisconsin were in sales, thanks to his father-in-law's connections. Nikos didn't speak English, so nobody wanted to hire him. As a young man looking to provide for his family this rejection really hurt.
Frustrated, Nikos walked into a local hotel restaurant and told the manager he needed a job, promising this stranger he would not be disappointed. The manager hired Nikos on the spot, "My gut is telling me you are going to be a very good server." Nikos started out doing room service, preparing breakfast at five every morning.
In his second year in the US, Nikos heard that another Greek who had married an American was going to be opening a local restaurant – the Apollon. Nikos got a job working there until close after he worked room service at the hotel in the morning. Some days he would coach soccer in between his shifts.
Education
A turning point was when his daughter was in first grade. His daughter asked him how to spell a word in English. He didn't know the answer, and it really affected him.
Nikos grew up without his father around, and he didn't want to be that type of parent. He wanted to be there for his kids, to be able to help them with their homework, and have the time to show them how much he loved them. (audio below)
Nikos knew he didn't want to be a server his whole life, and he decided to further his education.
The University of Wisconsin accepted Nikos to study finance and international business. His life became even more chaotic: university classes, working at the restaurant, coaching, and trying to arrange all of this around his kids' schedules. He remembers going whole days without sleeping during his midterms. Shortly after he graduated, the community bank hired Nikos and he has been there for almost two decades.
Divorce
Nikos says he lost everything when he and his wife divorced. It was this shock that led him to take some financial risks that have paid off. He no longer lives paycheck to paycheck and now buys properties, fixes them up, and rents them. There were moments after arriving in the US where Nikos felt like he had lost his Greek identity. Since the divorce, he goes back twice a year to Greece. He feels like he has rediscovered his identity and feels more Greek than ever.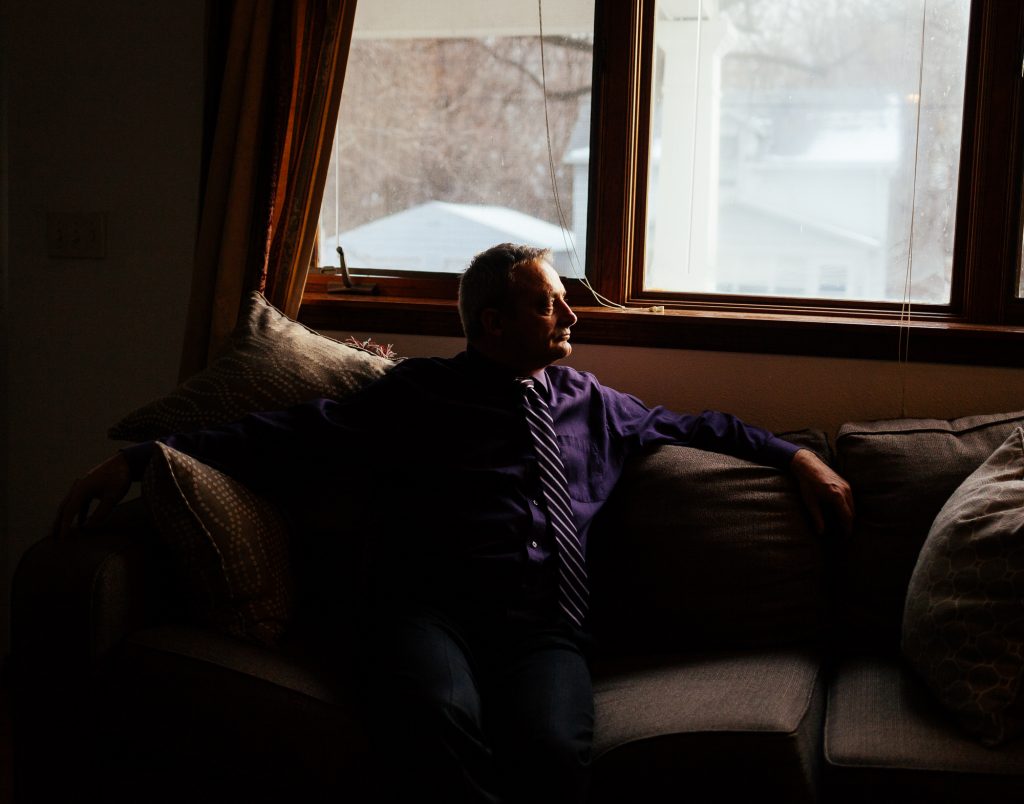 Soccer
"Soccer is my passion. It's like the affair I had with another woman. It's something I have in the bottom of my heart."
Nikos played soccer anywhere and everywhere as a child. The village didn't have a pitch, let alone a field, but that didn't stop Nikos and his peers. He remembers playing soccer on the rocks. In high school, a club coach recognized Nikos's talent and invited him to play semi-professional, which he did for five years.
Soccer was also a crucial factor in his adjustment to Wisconsin. It was on the soccer pitch, where he met other immigrants.
"Soccer was a connection for me to blend in with others. No one made fun of my accent anymore. I was talking with my feet – it's a universal language." (audio below)
When the local high school needed a junior varsity coach, Nikos volunteered. Since then, Nikos has been coaching clubs, clinics, his son's team, and now he coaches at the local university. He still plays, with passion, once a week.
"You tell me to do something with soccer, I jump."
Nostalgia
For Nikos, oregano is symbolic of summers in Greece [see the photo below].
"I remember my mother making us pick oregano, to sell, and to have for ourselves. We would go up in the mountains, pick it, let it dry out, remove the leaves, and fill up bags for money."
When Nikos returns to Greece every summer, he still picks some oregano to bring home to America.
Future
Today Nikos says he has made a name for himself in Appleton.
"I love people. I will talk to any stranger. That's how I meet people. I have a personality that people remember me for. Not always good. Not saying that everyone likes me, but that's the way it should be." (audio below)
The restaurant manager who hired him for his first job in Appleton is now on the board of directors of the bank where Nikos works. Nikos will never forget the people who trusted him when he needed it most.
His hopes and dreams are now for his two kids, who are in their twenties. He wants them to continue doing well, start families, and keep decent jobs. Nikos wants them to feel successful and know that it isn't all about money.
He has always dreamed of building a house in Greece, and he finally did that. He also became an American citizen in 2011. Nikos's ideal retirement would be living half the year in the United States and half the year in Greece.
#FINDINGAMERICAN
To receive updates on the book release and exhibition of "Finding American: Stories of Immigration from all 50 States" please subscribe here. This project is a labor of love and passion. If you would like to support its continuation, it would be greatly appreciated!
© Photos and text by Colin Boyd Shafer | Edited by Kate Kamo McHugh. Quotes are edited for clarity and brevity.