Childhood
Ivy grew up surrounded by her extended family, in Kenya's "very collectivist culture". She remembers playing outside with the other kids, going around and knocking on everyone's doors. She remembers Nairobi as "one of the most perfect places on earth".
Her mother, like her grandmother, worked in a bank, but in 1995, when Ivy was five, her mother left to join some of Ivy's uncles who were already in the United States.
From an early age, Ivy loved to sing and perform in front of a crowd. She dreamt of one day being a pop star.
"I could have sworn I was going to be the next Britney Spears!" (audio below)
Her grandmother bought Ivy a baby grand piano after her mother left, and as Ivy learned to play it, her dreams only grew bigger.
After leaving Africa, Ivy's mom worked long hours in the US as a CNA (certified nurse assistant), trying to save up enough money to bring Ivy to Dallas. Ivy remembers going around, telling everyone that she was going to America to be with her mom. Still, the first time she went to the US embassy to get a visa, it was denied.
"I had to go back to school, and my friends were like, 'I thought you were going to America!?'
United States
On the second try, Ivy got the visa. On December 31st, 1999 – just hours before Y2K – Ivy arrived in the US. She remembers thinking, "If the world ends, at least I'm in America." Ivy was nine years old and especially excited about McDonald's.
At her new elementary school in North Dallas, the administration assumed that as an African, Ivy wouldn't speak English. From that moment on, Ivy felt like she had to always prove herself, and dispel all of the negative assumptions and stereotypes. The other kids in her class had so many questions for her – questions she thinks came from "genuine honesty."
"'In Africa did you have a house? Did you live in a grass hut?'"(audio below)
Ivy remembers standing in front of the mirror, trying to lose her accent. She also remembers making her first 'American' friend Allison, someone she is still friends with today.
Mavs' Ballkid
Three years after arriving, Ivy, age 12, saw a commercial on TV for "hoop camp." This would be an opportunity to play the sport she had always watched in Kenya. After enjoying the basketball camp, Ivy applied to become a Dallas Mavericks' Ballkid (the kid who rebounds for the players and wipes the floor if a player falls). From the age of 12 until she was 18, she worked passionately as a Mavs' Ballkid.
It wasn't easy for Ivy's mom to support the family. Rent was high in their neighborhood, but she wanted to live there because it had better school districts. While working as a CNA Ivy's mom had cared for some alumni from a prestigious local private school called The Hockaday School. They told Ivy's mom that she should apply for her daughter to go there, and one day Ivy came home to a Hockaday School uniform on her bed.
After attending The Hockaday School on financial aid, Ivy got a scholarship to study corporate communication at Marquette University in Wisconsin. She is extremely social, and her dorm room quickly became the "meeting spot." Ivy says she's always been "the person around whom people gather." Marquette is where she met the father of her daughter, Kyani.
Poizon Ivy the DJ
While at Marquette, Ivy became the director of promotions at the college radio station. Part of the job was to host a radio show, but Ivy wanted to DJ instead of MC. She mentioned this to her friend Josh and the very next day, he showed up with two turntables, a mixer, a speaker, and introduced her to DJing. Ivy only planned on DJing for her radio show, but three months later, she was doing a show in front of 25,000 people and truly morphing into Poizon Ivy the DJ.
"It's almost like DJing chose me. I didn't choose it. That's why to this day; I believe experience is the best teacher."
Kyani Rose
Ivy's daughter, Kyani Rose, is named after Ivy's grandmother. Ivy says it's hard to remember life before having Kyani in 2012.
"It's like God allows you to erase everything you knew before. It's like she is my little best friend. I wouldn't trade it for the world."
Home
Ivy always figured that she would move back to Dallas eventually. When she and Kyani's father split up in 2015, Ivy and Kyani moved back to Texas to live with her mom.
"Dallas is Southern hospitality at its finest. I've seen more diverse cities, but you can find your place here."
Before moving back to Dallas, Ivy had had the opportunity to tour as the DJ for WNBA player Skylar Diggins's basketball camp. This experience got her thinking about DJing in bigger sports venues. In 2016, Ivy decided to cold call the WNBA's Dallas Wings' office, and it worked. She was hired on as their DJ. With confidence high, Ivy decided to email the NBA's Dallas Mavericks and see if she could DJ for them as well. She knew it was a longshot, as the NBA had only ever had one female DJ, but the Mavs' CMO remembered her from her years as a Mavs' Ballkid, and the team happened to be looking for a DJ.
"In the interview, I told them I grew up in this building, and I know what it is supposed to sound like." (audio below)
Ivy became the second-ever female DJ in the NBA. It was her goal from the start to ascend through the ranks from basketball camps to DJing the NBA All-Star Weekend, and in 2018 she was, in fact, the DJ on All-Star Sunday.
"I was the first woman ever to do that. Another check off the list. Next: Team USA, Olympics, and then I'll be done!"
Love
Since Kyani was born, every decision Ivy makes includes the question, "How will this affect my daughter?" DJing consumes Ivy "emotionally, physically and spiritually". She often brings Kyani with her to work because some weeks, that is the only time she can see her.
"I feel like if she's around me, I'm able to influence her. I look at her and I know I only have one chance to get this right. It's the most beautiful thing ever." (audio below)
Ivy tries her best to hide her life's stresses from Kyani.
"I'm so stressed out, and she's the one I'm around the most. I don't want her to be a punching bag of sorts. At the end of everything is Kyani, and at the beginning of everything is Kyani."
Ivy thinks more people should talk openly about the challenges of motherhood. She knows firsthand how lonely and challenging life can be as a single mother.
People ask Ivy all the time if DJing is her "full-time job". Since she was 21, DJing is the only job Ivy has ever had.
"It's how I have to provide for Kyani and myself for the rest of our lives. I don't know where I would be without it."
Game Time
When Ivy is DJing a Mavs game, the first thing she does is look over the game script and prepare the music. The "hotkeys" need to be programmed for things like the kiss cam, marriage proposals, and any other moments requiring a sound effect.
"I have to watch more basketball than I care to. I literally control the pace of this game. The energy derives from the sound."
Ivy jokes about what it would be like if she didn't show up to work one day, and everyone had a silent basketball game!
Friends
When Ivy was a Ballkid, she got to know the Mavs ManiAACs, a group of large men who dance and entertain the crowd during the games. "Big Rob" from Louisiana, has been a ManiAAC for almost two decades and has known Ivy since childhood.
"I'm so proud of her on so many levels. Coming up as a Ballkid, to being the only African American female DJ in the whole NBA – that's a huge accomplishment, and she's just starting!" (audio below)
Erin [the above photo top right], the Mavs Vice President, Corporate Communications and Events, comments on how, many people, come to the games to see Ivy. It's normal to see fans coming up to Ivy for a big hug.
"She has her own fandom and a huge social media following. Where music and sports meet is where she sits, and it is awesome!"
One fan named Gary [see the photo above left] from Indianapolis has been a season ticket holder since 1985 and is a big DJ Poizon Ivy fan.
"I can tell you that Poizon puts a really nice vibe in the arena. She's putting her own stamp on it, and it's great to have her here." (audio below)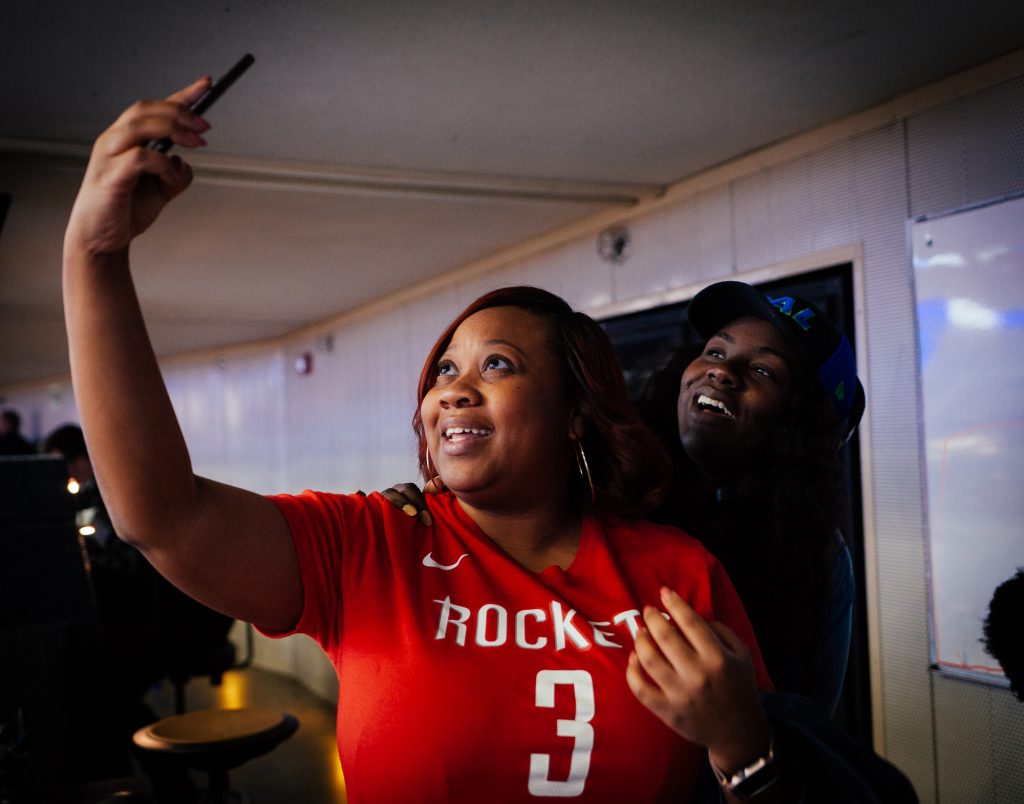 Africa
Ivy knows her influence goes farther than the United States. She wants to have an impact on Africa and tries to return to her home continent as often as possible.
"I get so many messages that say: 'girls in Kenya need to know about you! You were born here just like them – they can relate. You come from where they come from – walked the same streets.' You have to push stuff out there to be that hope or beam of light for someone."
Ivy recently got a message from her former kindergarten teacher saying that she had named her child Ivy after her.
"I'm being very intentional in connecting everything I do now to Kenya. My life can be most meaningful if I find a way to impact Kenya too."
It is very important to Ivy that Kyani experiences and understands Kenya and is exposed to other ways of life, which is why she has already brought her to Africa twice.
"It is important for her to go there and see that we are very fortunate to have this life, but at the same time, things are happening over there that we don't have here. Very often, the light isn't shed both ways."
Music
Ivy can't imagine a world without sound. It is the sense she cherishes most.
"It's the one thing in my life that I don't think I'd be able to conquer. There is so much music in the world. It is a universal language, a unifier – it heals and soothes." (audio below)
Ivy currently DJs at a local Dallas radio station K104 as well as at the Mavs & Wings games. Ivy loves her job. Sometimes she does wish though that people focused more on her as a DJ as opposed to a female DJ. (audio below)
Future
Every day, as she drives to and from work, Ivy sees people in Dallas who are struggling socio-economically. She's trying to figure out how best to use her platform to benefit those who are less fortunate, in the US and in Africa.
"The world is at a weird dark place right now. I hope we will see a world where people are truly equal."
Ivy's grandpa, who she was only able to meet once before he died, was a politician. Ivy hasn't ruled out the possibility of getting into politics or becoming the first female commissioner of the NBA.
#FINDINGAMERICAN
To receive updates on the book release and exhibition of "Finding American: Stories of Immigration from all 50 States" please subscribe here. This project is a labor of love and passion. If you would like to support its continuation, it would be greatly appreciated!
© Photos and text by Colin Boyd Shafer | Edited by Kate Kamo McHugh. Quotes edited for clarity and brevity.